Fall Classes

Makerspace & Artist Studios

Back to School Teen Bash
Come In!
We are Epoch Arts! An "arts for youth" non-profit, 501(c)3 organization dedicated to helping young people communicate, collaborate, create and celebrate through experiencing, hands-on, the arts. No experience needed, please.  Whether in a class, rehearsal or a performance, students learn valuable principles, techniques and skills that help them grow as people, and as artists.  We address complex issues and social tensions young people face by creating original art.  Our aim isn't to create perfect artists or art but rather to use the arts as a medium to help students understand and express feelings, work with others as a community and explore complex issues that we face in our daily lives. So, join us! We are eager to get to know you!
Latest News:
Posted: Sep 5, 2017
Until October 2nd, we have a special opportunity for Connecticut Businesses to support Epoch Arts with donations 100% reimbursed!
We are looking for business partners to join us in this tremendous opportunity.
Epoch Arts was approved in a 2017 Connecticut program called the Neighborhood Assistance Act, which will fully reimburse corporate supporters for their donations of any amount between $250 - $150,000 through a Corporation Business Tax credit. 
The donations must be pledged between 9/15/2017 and 10/2/2017, and made before the end of the year.
The donations will be directed toward exciting, energy efficient renovations of our upcoming Makerspace & Art Studio project
This is a win-win proposal. The corporation will get good publicity and the eternal thanks of a grateful community, at no cost. Epoch Arts will get the funds needed to renovate part of its historic building into a MakerSpace that will provide equipment and space for people in East Hampton and the surrounding communities to pursue their creative projects.
Please contact us immediatly if your business would like to help us in this way. The process is as simple as making your pledge on this single page form.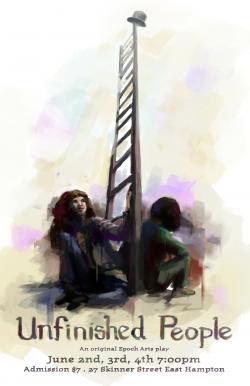 Thanks for coming to Unfinished People-2017
The original play, Unfinished People, focused on issues of social and economic differences, it looked at what causes separation, what distracts us from community involvement and how we can educate ourselves on issues that we know nothing about. It talked about characters who lived in a perfect diverse society, but when they are pulled out of that society and forced to look at the real world,they are shocked at how broken the world really is. "The play tackled current social and economic issues, as well as addressed the drug problems in this world that others seem to ignore. It taught us that we need to be passionate and active members of our community, instead of being distracted by superficial things," says actor Megan Crotty. The play asked the question of how we spend our time, what superficial things we fill it up with and should we be investing in people, rather than things. Sixteen year old cast member Robin Leet explained, "This isn't your average play. This show discusses important, sparsely spoken of issues, such as drugs, addiction and what it can do to a person, and the unhealthy things we consume ourselves with in daily life. We will speak of the vacancy in relationships and people caused by cell phones and other casual, everyday devices.We break down barriers you might not even know were there and bring attention to poverty, the middle to lower class, and how these issues can affect our community as a whole."